Strathcona Music Building
Room E203
555 Sherbrooke Street West
Montreal, Quebec
H3A 1E3
Phone: 514-398-4535
Fax: 514-398-8061
The Faculty of Music offers training in musical performance, theory, history, therapy and technologies. It also houses performance spaces, a recording studio, and Pollack Hall. The Faculty of Arts also offers some Music programs.
Music, Media and Technology
Faculty of Music, McGill University
Program Description

The M.Mus. program in Sound Recording provides "Tonmeister" education at a graduate level. Established in 1979, this program is designed for professional musicians who wish to develop the skills required in the music recording and media industry. Graduates of this unique and highly acclaimed program occupy important positions at prestigious institutions worldwide and win creative as well as scientific awards in international competitions.
Each candidate must complete a full year of preparatory undergraduate technical courses prior to making application to this highly competitive program.
The program has close ties with the recording industry which provides internships, professional instructors and equipment assistance, and has helped to establish the Faculty's many elaborate studios.
Redpath Audio Recording Studio

Redpath Studio is primarily used for research in ProTools post-production for film and video, discrete multichannel surround and ultra high fidelity recordings. It is also used for recording concerts and occasional recording sessions in the 300-seat Redpath Concert Hall situated above it.
Control Room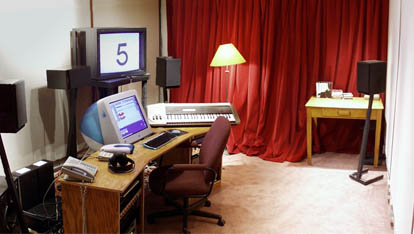 Tape- and Disk-based Recorders:


Digidesign ProTools

Tascam DA-30 DAT Recorder

Tascam DA-38 8-track Digital Audio Recorder with RC-808 Remote Control

Pioneer 96kHz DAT Recorder D-9601

Sony UVW-1600 Betacam SP player

Sony Portable BVW-50 Betacam SP recorder

Microphone Preamplifier:


Monitors (Multichannel):


Monitors (Stereo):


Pioneer eXclusive Model 2251 3-way Stereo Monitors

Pioneer A-07 Stereo Amplifier

Other Equipment:


Jünger 206 6-channel level controller

Yamaha VL7 synthesizer

Pioneer DVD Player

Marantz Digital Processor DP870

Coherent Acoustics 6x20 DTS Decoder
Awards
Faculty
Several of McGill Sound Recording's instructors were award recipients at the 1998 Grammy Awards.
Adjunct Professor George Massenburg was awarded a Grammy for "Life Time Technical Achievement". The other laureate this year was Sony and Philips for their development of the Compact Disc.
Adjunct Professor Steven Epstein won two Grammys this year - the first as "Classical Producer of the Year" for his work with Yo-Yo Ma, and the other for the "Best Classical Album of the Year".
A McGill Sound Recording graduate, Richard King (currently an engineer with Sony Music) had also been nominated for the "Best Orchestral Recording", for his recordings of Herrmann's Film Scores with the Los Angeles Philharmonic and Esa-Pekka Salonen, conductor.
On a slightly different note, Peter Cook, McGill Sound Recording graduate and current instructor of the Advanced Digital Editing and Post-Production course, won the 1998 Gemini Award in the category of "Best Sound in a Comedy, Variety or Performing Arts Program or Series" for the film "A Tale of Tanglewood: Peter Grimes Reborn".
The film was directed by Barbara Willis-Sweete for Rhombus Media with funding from NHK and Bravo! It's a beautiful little film about Tanglewood, Seiji Ozawa, and the staging of Benjamin Britten's "Peter Grimes" on the occassion of the 50th anniversary of its North American premiere at Tanglewood.

Students

McGill Sound Recording Students Sweep 20th Annual DownBeat Student Music Awards!
McGill Sound Recording students captured 6 of the 7 total prizes given out this year in the Down Beat magazine 20th annual Student Music Awards.
McGill Sound Recording alumni John Sorensen, continuing his work at the Banff Centre for the Arts, was the sole winner in the "Engineered Live Recording" category.
The 3 co-winners in the "Engineered Studio Recording" category were John Sorensen along with Class of '97 McGill Sound Recording students Kypros Christodoulides and Jason Corey. Kypros and Jason, coincidentally, were also two of the six recipients worldwide of the 1996/97 AES Educational Grants.
Class of '98 McGill Sound Recording Students Gavin Whiteley and Marc Stedman both received the "Outstanding Performance" award in the "Engineered Studio Recording" category.
The results of the 20th Annual Student Music Awards were published in the May 1997 issue of Down Beat.
Pollack Concert Hall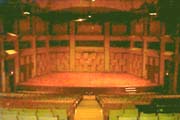 600-seat concert hall used for many classical and jazz

Large concert stage with moveable acoustic panels

24 Microphone inputs along edges of stage



Redpath Hall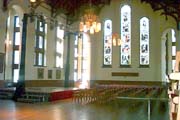 300-seat concert hall

Wood floors and walls, with high ceiling and balcony

Authentic French Classical Organ

Often used for baroque, early music, brass, and solo voice recitals

16 microphone inputs to the Redpath Studio Control Room